Whether you're in gift-searching mode, letting loved ones know your favorites or getting a little something for yourself, there's a recently-published book that we hope you keep in mind. In fact, here are five reasons to put "Hawaiian Women's Fashions" on your wish list, for others or for YOU!!
1. The Photos. OH, the PHOTOS!!
A contemporary kapa pa'u worn by a kumu hula. From Dino Morrow.

A formal portrait of Hawaiian women wearing different variations of the traditional holokū or "Mother Hubbard" dress. From Hawai'i State Archives.

A native fern print fabric and dramatic wrap dress in light green designed by Nake'u Awai, one of the first Hawaiian Renaissance designers, accessorized with a kukui nut necklace and fern lei. From Nagamine Photo.

Queen Emma Kalanikaumakaʻamano Kaleleonālani Naʻea Rooke in a fashionable gown with a long train, posed by a Baptismal urn from Queen Victoria. From Hawai'i State Archives.

An eye-catching gown and headpiece made of braided and stripped red ki/ti leaves, by KoJo Couture of Maui for a MAMo Wearable Arts show, from Koa Johnson.

Princess Victoria Ka'iulani Cleghorn in a silk dress with ruffles. From Hawai'i State Archives.

A white princess line modern holokū inspired by the fashions of the 1880s, designed by Princess Ka'iulani Fashions.

Maui models showcase floral print garments. From Nagamine Photo.

A later portrait of Queen Lili'uokalani sitting on a throne chair and dressed in an imported gown embellished with feathers and beads. From Hawai'i State Archives.

A palaka print dress with matching turban by Hawai'i designer Kini Zamora. From Nagamine Photo.
This book contains a treasure trove of fascinating historical pictures, bringing long-ago stories to life. For instance, there are black-and-white historical photos from the Hawai'i State Archives and the Bishop Museum, as well as images from the collection of the Congregation of the Sacred Hearts Hawai'i.
But the visuals extend well beyond the olden days. You'll also see modern, vibrant images of Hawaiian women's garments, including the holokū and the mu'umu'u. You can also get a look at some of the incredible garments that 21st century designers have created.
Not only that, but the book design is phenomenal. All the photos are laid out in such a thoughtful and professional way, complemented by spot-on graphics and colors, thanks to the experts at Stacey Leong Design.
2. The "Did You Know?" Moments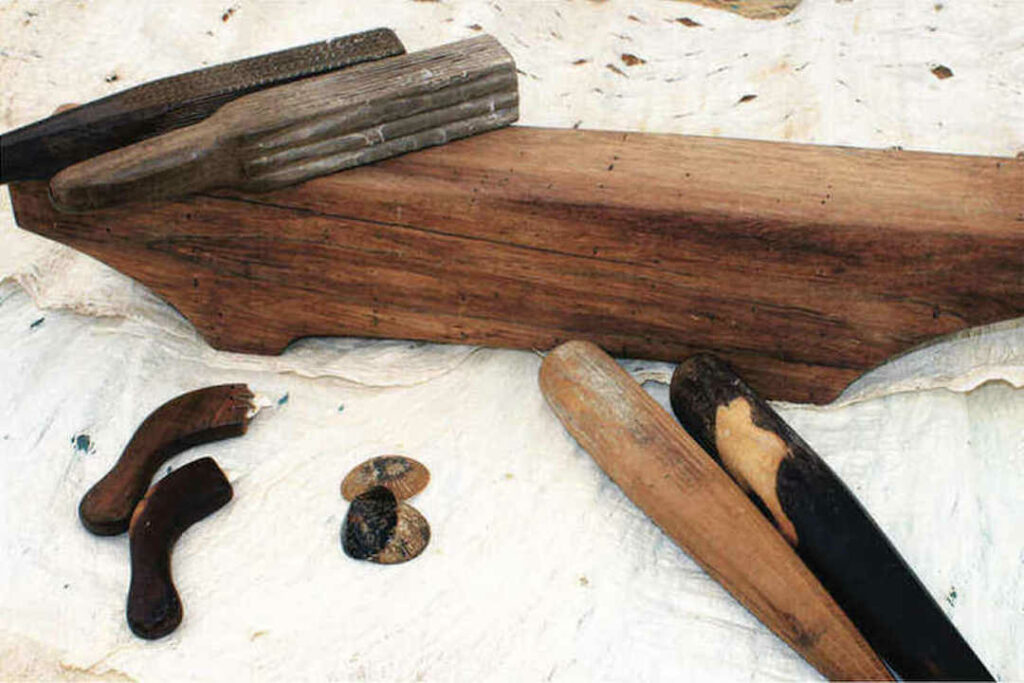 There is so much to learn among the 288 pages of Hawaiian Women's Fashions. After all, the author was a teacher for more than three decades!! But this isn't some staid and boring subject matter. The storylines flow beautifully, outlining the history of Hawai'i from the start, when the very first Polynesian voyagers landed their canoes on the shores of fabled, mystical land they knew as 'Hawaiki' from their chants and legends.
We are from Hawai'i ourselves, and in reading this book, we came upon a realization. There is so much that we didn't know!! The intricacies of kapa cloth and featherwork; the intimate accounts of Hawaiian ali'i, their personalities and relationships; the changes in society and politics, reflected in the fabrics and fashions through the years.
So much time and research went into this book, and it shows. You'll learn a lot from it, and enjoy the process!!
3. A Maui-Made Author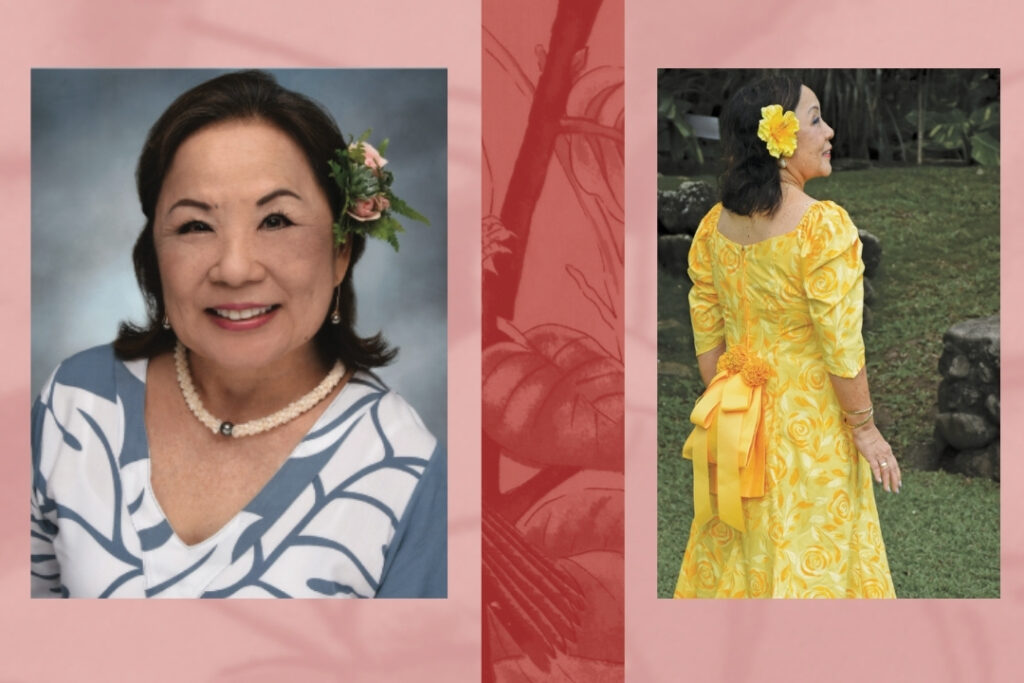 The book is about Hawai'i, written by someone born and raised here. Hawaiian Women's Fashions author Agnes Terao-Guiala grew up on Maui in the small beachside community of Paukūkalo.
After graduating from college, she taught British Literature and writing skills at public and private schools in the islands for more than 35 years. A lifelong hula dancer and student of Hawaiian history and culture, she began researching the history of Hawaiian women's fashions out of curiosity. Her research turned into an eighteen-year long project culminating in the creation of this book, which has been described as a "must-have for all Hawaiian book collectors" by Maui librarian Ketra Arcas.
Agnes Terao-Guiala has a true "passion for fashion" and respect for Hawai'i; her love for both are beautifully expressed throughout this book. We've been honored to get to share her stories and knowledge through a video series on YouTube and on the book's Facebook page (where you can also message Agnes to purchase a copy of the book).
4. The Local Ladies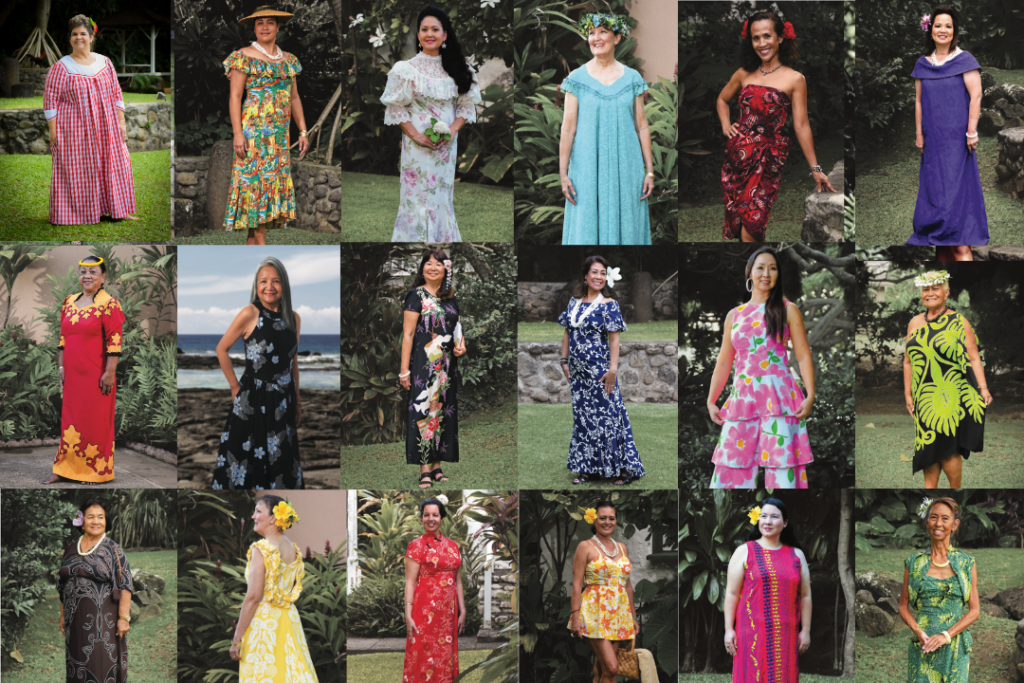 This book not only talks about women's fashions in Hawai'i, it SHOWS women wearing the fashions, even some of the retro styles!! Author Agnes has an abundance of dresses in her personal collection, and gathered local ladies of all ages and backgrounds to help model the garments.
Her longtime friends, teaching colleagues, former students and school workers got to "play dress-up" in these fabulous fashions. With so many garments to showcase, these models did a great job!! Nagamine Photo took many of the photos on the beautiful grounds of Hale Hō'ike'ike at Bailey House Museum.
5. A Home for Hawaiian Women's Fashions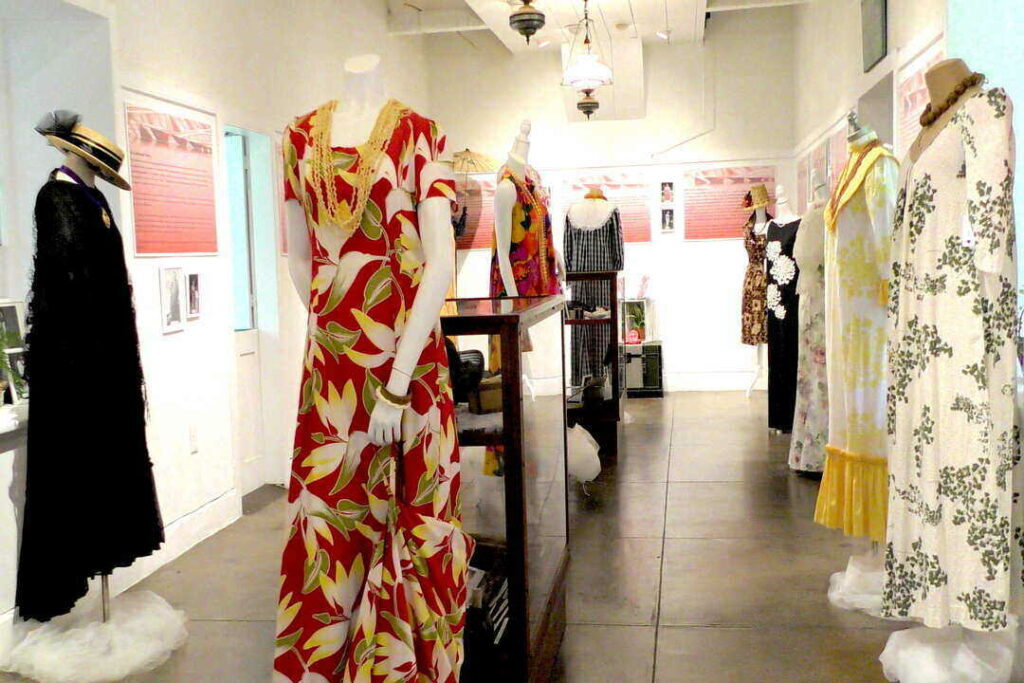 Speaking of Hale Hō'ike'ike, the community museum in Wailuku is gearing up to reopen soon, and features a wonderful exhibit with some of the garments from the book on display. There are also great informational posters about the different eras of Hawaiian fashion and history. It's fun to see the book come to life in this vibrant display of colors, fabrics and patterns. There, you'll also be able to purchase the book in the gift shop!
So support local and consider adding this book to your coffee table and your loved one's gift list for the holidays, or truly any time of year!! #GrowWithAloha