During the COVID-19 pandemic, Maui had a need for medical-grade filter face masks, and an inspiring group took action.
The Maui Filter Face Mask Project, founded by dressmaker Jennifer Oberg, was an all-volunteer effort. See how the idea began and grew in our video above.
Filling a Need for Face Masks
First of all, project leaders created a custom prototype, designed to give medical workers on Maui more coverage. Then volunteers got busy, making thousands of masks!! Drivers delivered the masks local first responders and essential workers in the medical field. In fact, volunteers exceeded the project goal of 10,000 masks in a mere matter of weeks!
Many Ways to Help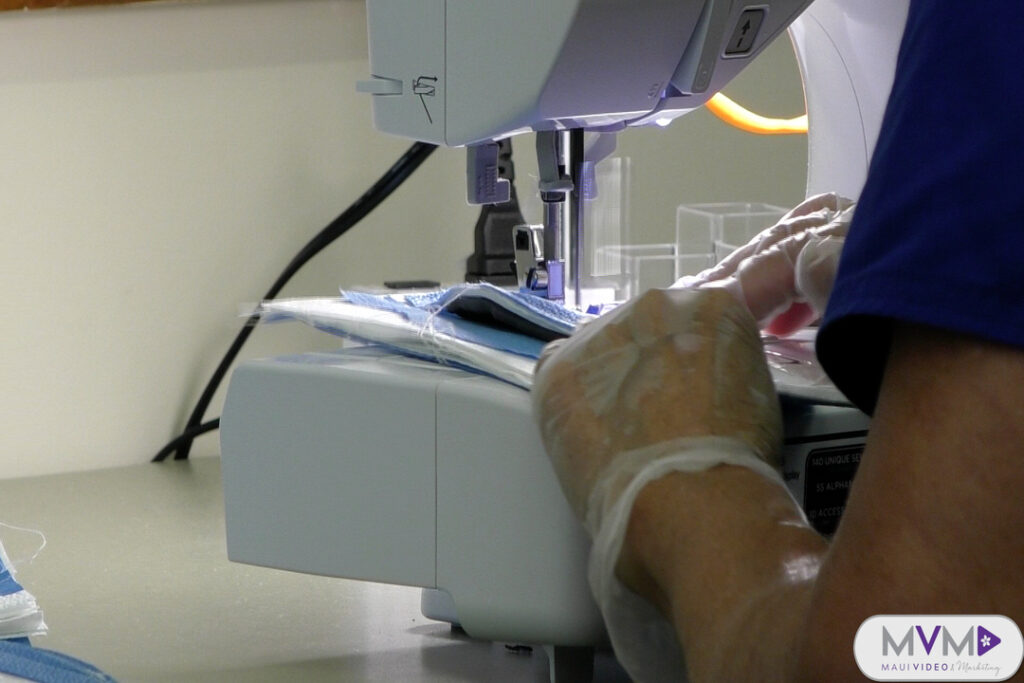 Team leaders welcomed volunteers, whether they knew how to sew or not, in several sanitized, organized and socially-distanced workrooms upcountry at Seabury Hall. After being pre-screened, all volunteers wore masks and gloves while on their shifts, which ranged from two hours to all day.
A GoFundMe Campaign called Maui Face Mask Fund was also established to accept donations. While the group was not established as a 501(c)(3) organization, it was a grassroots, volunteer-run project created to address the immediate need for filter face masks on Maui.
Community Connections
Countless restaurants provided the volunteers with daily lunches during their project. In addition, businesses like Olympia Clothing and Minit Medical donated supplies to help with product shortages.
Along with all the volunteers and donors, the people behind this team deserve a big MAHALO!
Jennifer Oberg – Founder & Director
Kathy Baldwin – Team Leader & Fundraising
Russell Van Dyken – Design
Julie MacMillan – Volunteer Coordinator
Caroline Crumlish – Manufacturing Foreperson
Kimber Carhart – Fundraising, Media & Donor Relations
Kim Abrahamson – Media & Lunch Coordinator
Lynn Rasmussen – Community Liaison
Mike Gagne – Deliveries
Debbie Benton – Purchasing & Supply Procurement
The Maui Face Mask Fund Facebook page still exists if you'd like to learn about this great group. But their efforts aren't over yet…
Face Mask Project Grows to Help Schools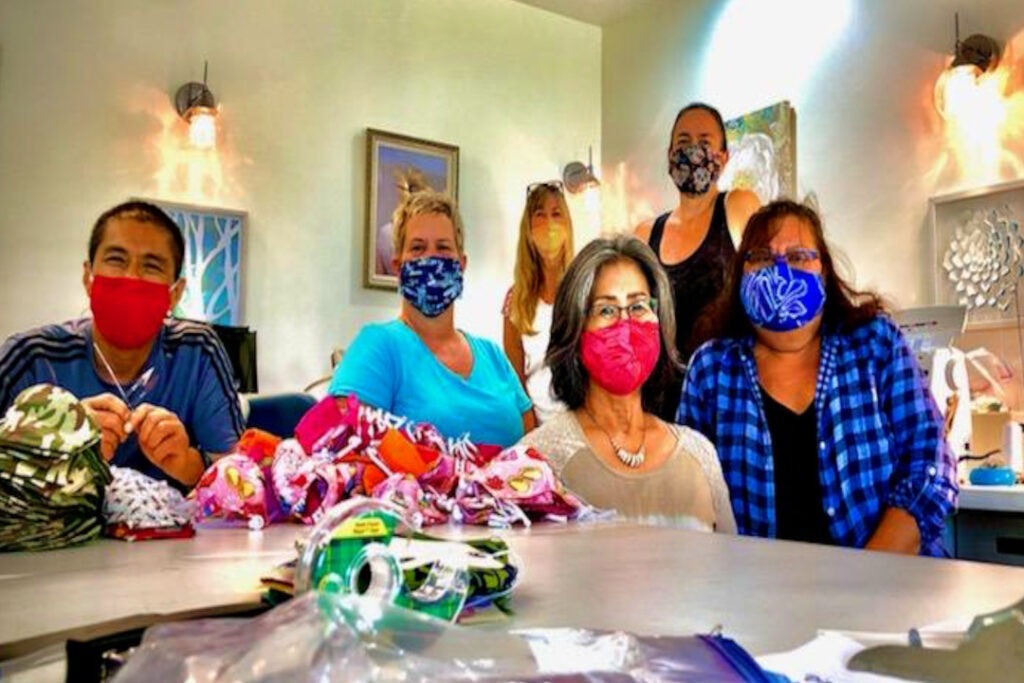 Many of the volunteers enjoyed their time so much, they didn't want the project to end! So Jennifer Oberg created The Sewing Hui of Maui, which is making custom face masks for our public schools.
First, the Sewing Hui made 300 cloth masks for the 2020 graduates of King Kekaulike High School. After that, they created 250 cloth masks for the teachers and staff of Seabury Hall. As word spread of their work, more requests began to pour in. For instance, they had received requests for 1,700 masks from a range of schools across Maui by August 2020.
The group received funding to purchase mask supplies, but the funding does not cover all of the expenses, so additional support is welcome. The Sewing Hui is in the process of becoming a 501(c)3 non-profit. Please contact thesewinghui@gmail.com if:
You're interested in volunteering.
You would like to make a donation.
You represent an organization that needs masks or other sewn items made.
Fantastic Face Masks for Sale Too!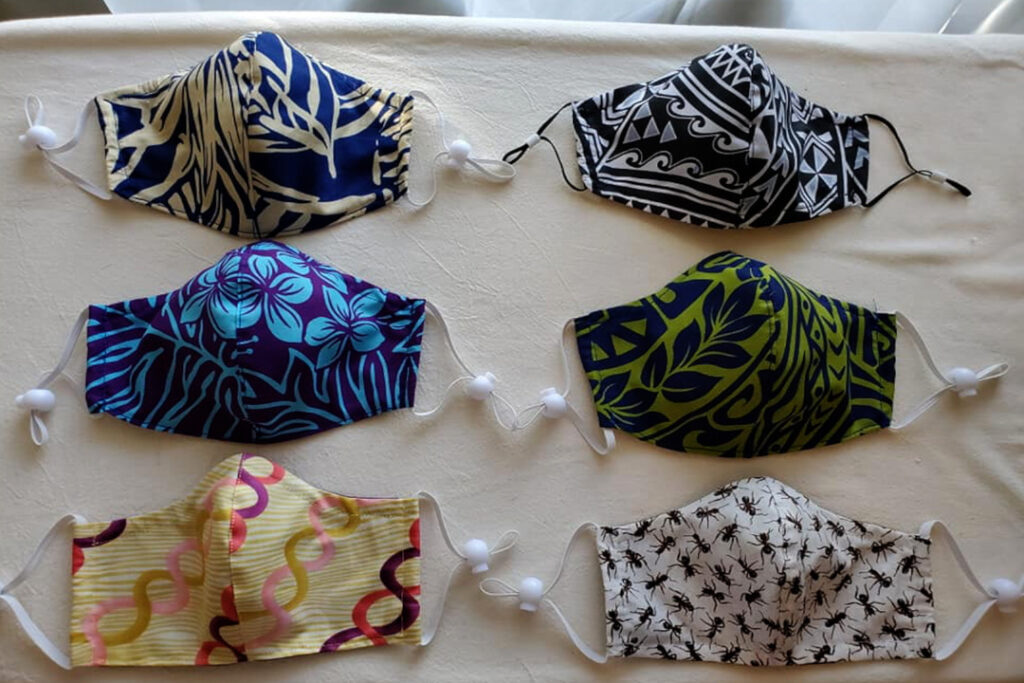 You can also support the project by purchasing fabric masks for $10 each; there are different styles to choose from on their Facebook page. There are adult sizes with built-in frames to keep the fabric away from your mouth, and kid sizes in a regular mask style.
We're proud to be affiliated with these wonderful folks, and are thankful for the opportunity to tell their story via video. If you'd like to see more of our videos, there are plenty here. To learn what we can offer groups, businesses and nonprofits — including video production, public relations and marketing plans — check out our Services page.
Mahalo to volunteers for both projects. Above all, they care about Maui and we're thankful to them, as they continue to help keep us #MauiStrong!!